Cincinnati Green Beret Motorcycle Road Rally
September 10, 2016 - 12:00 am
Unnamed Venue , Cincinnati, OH
Cincinnati Green Beret Motorcycle Road Rally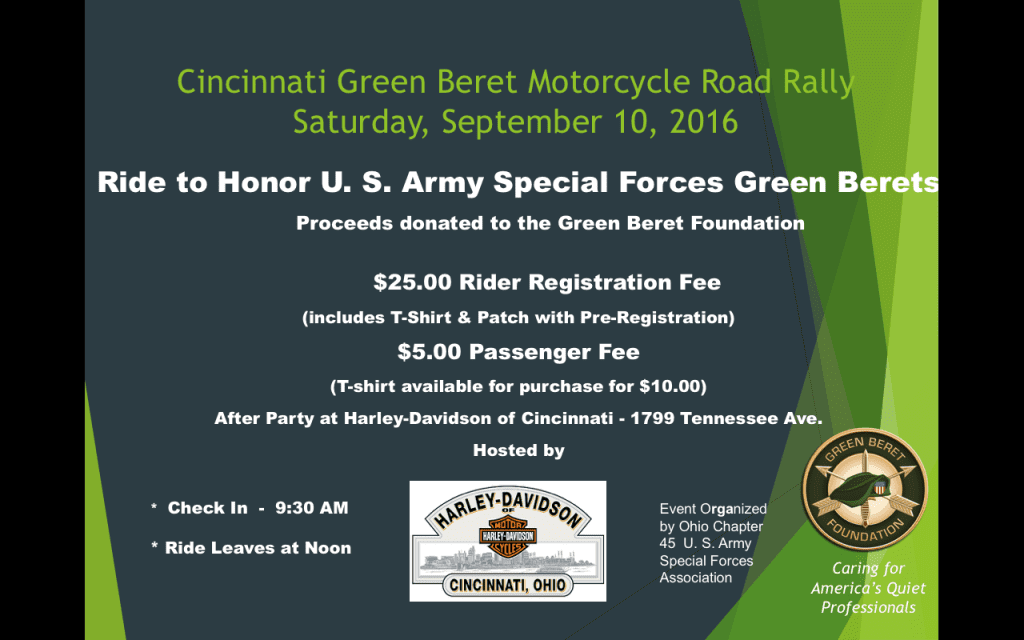 Welcome to the Cincinnati Green Beret Road Rally webpage! We look forward to you being part of the September 10th Motorcycle Rally.  Proceeds raised from the Rally are donated to the Green Beret Foundation. Special Forces Green Berets have the highest casualty rate among Special Operations Forces. We welcome your support of a great organization and those they serve!
With pre-registration riders will receive a commemorative ride T-shirt and patch. Register below or at the Harley- Davidson of Cincinnati or its  XXX, KY locations. The ride will take place, rain or shine. The Jason Owens Band,  Johnny Fink and the Intrusion Bands will play from 11:00 - 4:00 pm. Registration begins at 9:30 AM with ride starting at 11:30.
Come join the ride to honor America's Quiet Professionals.  Cincinnati Green Beret Classic Organizers and the Ohio Chapter 45 of the Special Forces Association.  The 50 mile ride will start and end at Harley-Davidson of Cincinnati, traveling to New Richmond and back.