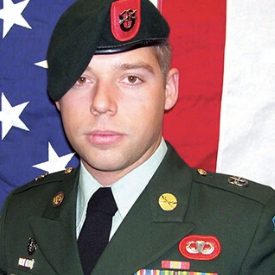 OEF Company A, 1st Battalion, 7th Special Forces Group (Airborne)
San Diego, CA
Sgt. James M. Treber, 24, died as a result of a non-battle accident on June 29, near Khosrow-E Sofla, in the Arghandab District, Kandahar province, Afghanistan, in support of combat operations while serving with Company A, 1st Battalion, 7th Special Forces Group (Airborne).
He deployed in support of Operation Enduring Freedom in May 2008 as a member of the Combined Joint Special Operations Task Force – Afghanistan. This was his first deployment in support of the Global War on Terror.
Treber, a native of San Diego, Calif., volunteered for military service and entered the Army in October 2005 as a Special Forces candidate. In 2007 he earned the coveted "Green Beret" and was assigned to 1st Bn., 7th SFG (A) at Fort Bragg, N.C., in November 2007 as a Special Forces Operational Detachment-Alpha weapons sergeant.
Treber's military education includes; the Basic Noncommissioned Officer Course, Survival, Evasion, Resistance and Escape Course, Basic Airborne Course, Warrior Leaders Course, and Special Forces Qualification Course.
His awards and decorations include the Bronze Star Medal, Meritorious Service Medal, Good Conduct Medal, National Defense Service Medal, Afghanistan Campaign Medal, Global War on Terrorism Service Medal, Noncommissioned Officer Professional Development Ribbon, Army Service Ribbon, NATO Medal, Combat Infantryman Badge, Parachutist Badge, and the Special Forces Tab.
Treber is survived by his wife, Tamila, of Daytona Fla.; father, Gordon Treber, of Astoria, Ore.; mother, Laurie Treber, of Mohave, Ariz.; and brother, Gordon Treber, Jr., of National City, Calif.
– DE OPPRESSO LIBER –