Classic Presenting Sponsor
Charles A. Donabedian
Mr. Donabedian is Managing Principal of Winston Investment Management, Inc., Cincinnati, Ohio. He also serves as Chairman of Globili, Inc., an early stage technology company based in Cincinnati. Mr. Donabedian is a Trustee of the United States Army War College Foundation, where he serves as a member of the Executive Committee, and is Chairman of the Investment Committee. He is the Founder and Chairman of The Det 3 Foundation, which provides direct support to combat units of both the U.S. Army and the U.S. Marine Corps. (www.det3.US) Mr. Donabedian is a past member of numerous NYSE listed public companies, including one Fortune 500 firm, as well as having served as Board Chairman of a family of Mutual Funds and on several other mutual fund boards. Mr. Donabedian stepped down from corporate boards recently to spend more time on his personal interests and charities.
Mr. Donabedian earned his Economics degree from the University of Pittsburgh, where he also pursued graduate studies in Semantics and Communications. He is a decorated United States Army veteran, who served with the 101st Airborne Division in Vietnam.
---
Congressman Brad Wenstrup
Brad Wenstrup was elected in 2012 to represent the people of Ohio's Second Congressional District in the United States House of Representatives.  He brings with him experiences as a doctor, Army Reserve officer, Iraq War veteran, and small business owner to help Congress tackle the challenges facing Ohio and the nation.
A Cincinnati native, Brad graduated from the University of Cincinnati in 1980. Subsequently, after earning a Doctor of Podiatric Medicine degree and completing his surgical residency in Chicago, he returned to Cincinnati to open his own private practice, treating patients for over twenty-six years. Brad has served in the U.S. Army Reserve since 1998, currently holding the rank of Lieutenant Colonel.  From 2005 to 2006, he served as Chief of Surgery of the 344th Combat Support Hospital and combat surgeon on a twelve month deployment in Iraq, and was awarded the Bronze Star and the Combat Action Badge for his service.  During his time in Congress, Dr. Wenstrup is fulfilling his Army Reserve duty by caring for our troops at Walter Reed National Military Medical Center in Bethesda, Maryland.
As a former business owner, Brad is working to promote economic growth for both employees and employers by eliminating burdensome regulations on the American people so they can invest, grow, and create jobs.  As a doctor, he promotes market-based health care solutions that protect the doctor-patient relationship and empower families and individuals as health care consumers.
In Congress, Brad is working to promote and advance the principles of liberty, the free enterprise system, a strong national defense, and the spirit of American Exceptionalism.
In the 114th Congress, Brad serves on the House Armed Services Committee, the House Permanent Select Committee on Intelligence, and the Committee on Veterans' Affairs. He is working to strengthen our military and national defense, help our returning service members' transition into civilian life, and support southern Ohio's veteran community. He is also a member of the House Doctors' Caucus, comprised of health care professionals who are working to implement patient-centered health care solutions based on their combined experience as doctors and nurses.
Brad lives in Cincinnati with his wife, Monica, and their son, Brad Jr.
---
Gala Program Sponsor
West Point Alumni Fund '98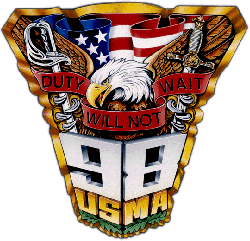 The 98Fund (www.the98Fund.org) was started by members of the United States Military Academy's Class of 1998 at their 10th reunion.  While paying tribute to their fallen brethren at the reunion, a small group of classmates decided Duty continued beyond the end of military service and they determined the best possible tribute to those classmates who had lost their lives was to ensure the well-being of their families. The plan for a Memorial Scholarship was born. Two years later, the West Point Class of 1998 Memorial Scholarship Fund, Inc. ("The 98Fund") was fully incorporated in the State of Virginia and was officially recognized by the IRS as a 501(c)(3) Non-Profit Organization (EIN: 32-0289471).
As the years progressed following its founding, members of the Class of 1998 saw the nearly continuous combat in which the nation and their classmates were engaged meant a need to expand The 98Fund's role. No longer simply focused on scholarships for the children of fallen classmates, The 98Fund's goals were broadened to provide help to classmates who returned from combat different than the way they left, to create opportunities for the children to preserve the memories of their parent(s), and to remain ready to meet additional, unforeseen needs that arise due to the dynamic and ever-changing battlefield of the 21st century.