Green Beret Appalachian Trail Walk & Fundraiser
Apr 07 - Sep 20, 2017
, GA
Green Beret Appalachian Trail Walk & Fundraiser
Special Forces veterans are walking the full length of the Appalachian Trail in 2017 to raise funds for the Green Beret Foundation! The group is trying to raise $100,000 for GBF.
To donate to the relay, please use the following link:
https://fundraise.greenberetfoundation.org/events/green-beret-appalachian-trail-walk-fundraiser/e91348

Or, mail your check to:
Green Beret Foundation
ATTN: Green Beret Appalachian Trail Walk and Fundraiser
14402 Blanco Road, Suite 101
San Antonio, TX 78216
Alternatively, if you'd like to help with stocking their re-supply routes, visit www.greenberetat.org for more information and updates!
Photos and video from the trail:
Central VA veteran prepares to tackle Appalachian Trail for Green Beret Foundation

Stepping off from Amicola Falls, GA.
Updates:
Johnny Mullen completes 119-mile hike http://www.nbc12.com/story/35188049/prince-george-man-completes-119-mile-hike-to-raise-money-for-foundation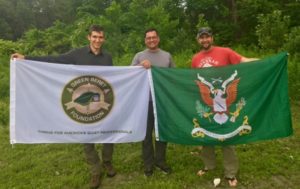 Vets hike AT to raise funds, awareness: http://www.gettysburgtimes.com/news/local/article_c3c94430-429f-5cd4-9401-2f6d61e26d88.html