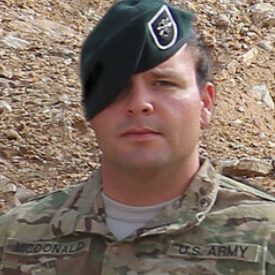 OEF Company B, 1st Battalion, 5th Special Forces Group (Airborne)
Butler, GA
Staff Sgt. Jason A. McDonald, 28, of Butler, Ga., died June 9, 2014, of wounds sustained from an operation in Zabul Province, Afghanistan.
He was assigned to Company B, 1st Battalion, 5th Special Forces Group (Airborne), Fort Campbell, Ky., and was deployed in support of Operation Enduring Freedom.
McDonald enlisted as an infantryman in the U.S. Army in 2004. Upon completion of his initial training, he was assigned to Co. C, 3rd Bn., 75th Ranger Regiment at Fort Benning, Ga. His next assignment was with Co. A, 2nd Bn., 8th Infantry Regiment, Fort Carson, Colo., as a grenadier.
McDonald volunteered for the Special Forces Assessment and Selection Course, and graduated from the Special Forces Qualification Course in 2010. Upon earning his Special Forces tab, he initially reported to Co. C, 1st Bn., 1st Special Warfare Training Group. He was then assigned to 1st Bn., 5th SFG (A) as a Weapons Sergeant. He served on one deployment to Afghanistan and two to Iraq.
His military education includes: Combat Life Savers Course, Infantry Leaders Mortars Course, Advanced Leaders Course, Survival Evasion Resistance and Escape Course, Special Forces Qualification Course, Warrior Leaders Course, Ranger Course, and U.S. Army Airborne School.
McDonald's military awards and decorations include: the Bronze Star, the Purple Heart, two Army Commendation Medals, the Army Achievement Medal, four Army Good Conduct Medals, the National Defense Service Medal, three Afghanistan Campaign Medals, three Iraq Campaign Medals, the Global War on Terrorism Service Medal, the Army Service Ribbon, the NATO Medal, the Special Forces Tab, the Ranger Tab, the Combat Infantryman Badge, the Expert Infantryman Badge, the Parachutists Badge, and the Marksmanship Qualification Badge Expert-Carbine.
McDonald is survived by his wife and two children, his mother, his father and stepmother.
– DE OPPRESSO LIBER –